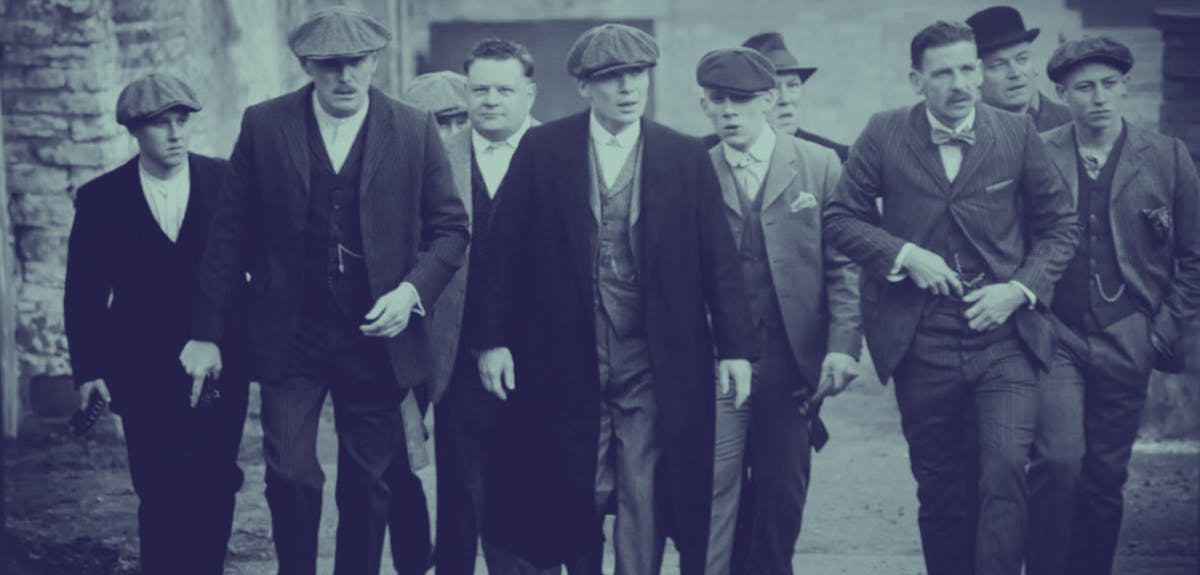 Who were the REAL Peaky Blinders?

Was Peaky Blinders' Tommy Shelby a real person? Discover the true story of Birmingham's most famous gangsters.
Millions of working-class people moved into Britain's booming industrial cities during the 19th century. With this influx, slum areas expanded rapidly, becoming tense, overcrowded melting pots where different social, religious, ethnic and political groups were forced to fight for their place in a new community.
Explore records with a FREE trial
These tensions gave rise to powerful street gangs who realised that a life of crime was much easier, more profitable and had higher chances of success with the help of like-minded people. In Birmingham, one of the most prominent of these criminal mobs were known as the Peaky Blinders, though they were each involved with many back-street gangs. We've discovered some of these Brummie brutes in our records.
The real-life Peaky Blinders gang members
There are some marked differences between the BAFTA-winning BBC drama series named after the gang and the story of the real Peaky Blinders. Firstly, Tommy Shelby, played by Cillian Murphy, and most of the other main characters, are fictional. And, while Peaky Blinders is set in the years following the First World War, the real gang mainly operated from the late 19th century until the start of the war.
However, the real gang did rule the industrialised areas of Bordesley and Small Heath, as portrayed in the TV series. Though it is alleged that the group got their name from hiding razor blades in their caps, this has yet to be proven.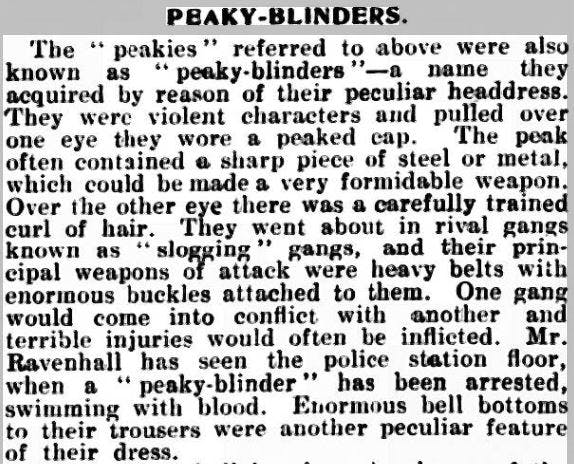 The series also loosely charts a glorified evolution from little more than young thugs and petty thieves to a sophisticated criminal empire built on illegal betting, protection rackets and Birmingham's black market. Though they never became much more than a back-street gang, the real Peaky Blinders were just as identifiable as the on-screen characters. Their distinct sartorial style consisted of donkey jackets, silk scarfs, bell-bottom trousers, steel-capped boots and their infamous caps.
So, who were the main players in the Peaky Blinders?
Kevin Mooney (real name Thomas Gilbert)
Thomas Gilbert regularly changed his name to avoid the authorities.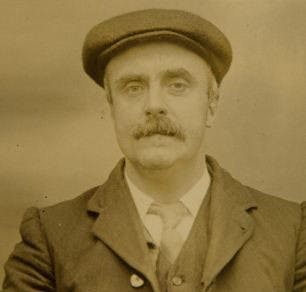 Under the moniker of Kevin Mooney, he was one of the most powerful members of the Peaky Blinders and led many of the gang's land grabs. He was sentenced to two separate stints on prison for thievery and deception.
Thought to be one of the founding members of the gang, Thomas Mucklow was involved in the organisation of some of its most violent assaults, including the one detailed below. This is one of the earliest mentions of the Peaky Blinders in historical newspapers.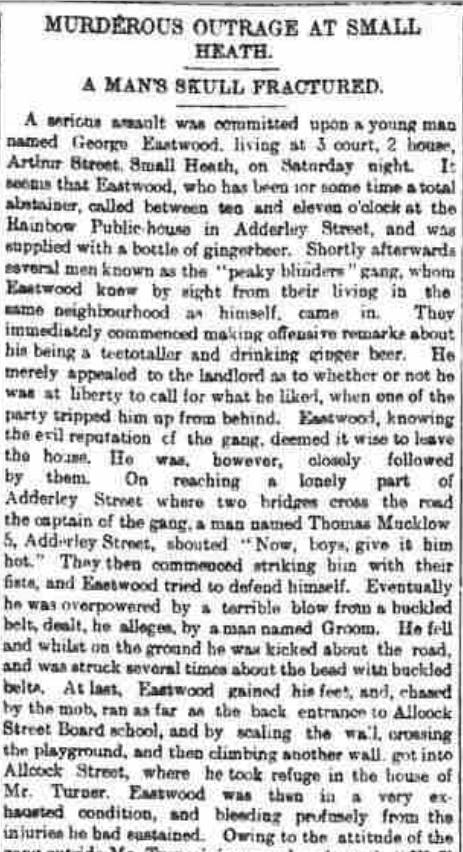 Mucklow was in and out of prison over the years. Our crime records from 1902 reveal that he served six months for maliciously wounding George Groom, thought to be a fellow Peaky Blinder.

By the time the 1921 Census was taken, 57-year-old Mucklow was still in Bordesley, Birmingham.

He lived with his wife Charlotte and claimed his occupation was a carter for a local haulage company. Was this a cover for shadier dealings or had Mucklow left the criminal underworld behind by then?
Harry Fowles, Ernest Bayles and Stephen McNickle
This uncouth trio were all arrested around the same time in 1904. 'Baby-faced Harry' and Bayles stole a bike, while McNickle broke into a drapery.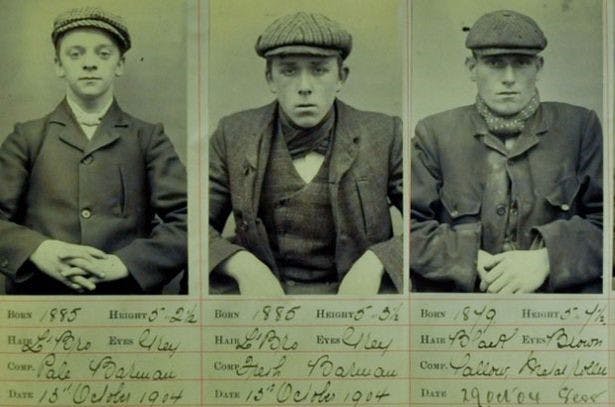 Court reports from the time referred to the three gang members as;
"foul-mouthed young men who stalk the streets in drunken groups, insulting and mugging passers-by."
It seems age was no barrier for joining the Peaky Blinders. Gang member David Taylor was just 13 years old when he was arrested for carrying a loaded firearm.
Our newspapers and crime records reveal that Peaky Blinders member, Thomas Walters stabbed a police constable named Bennett in 1901.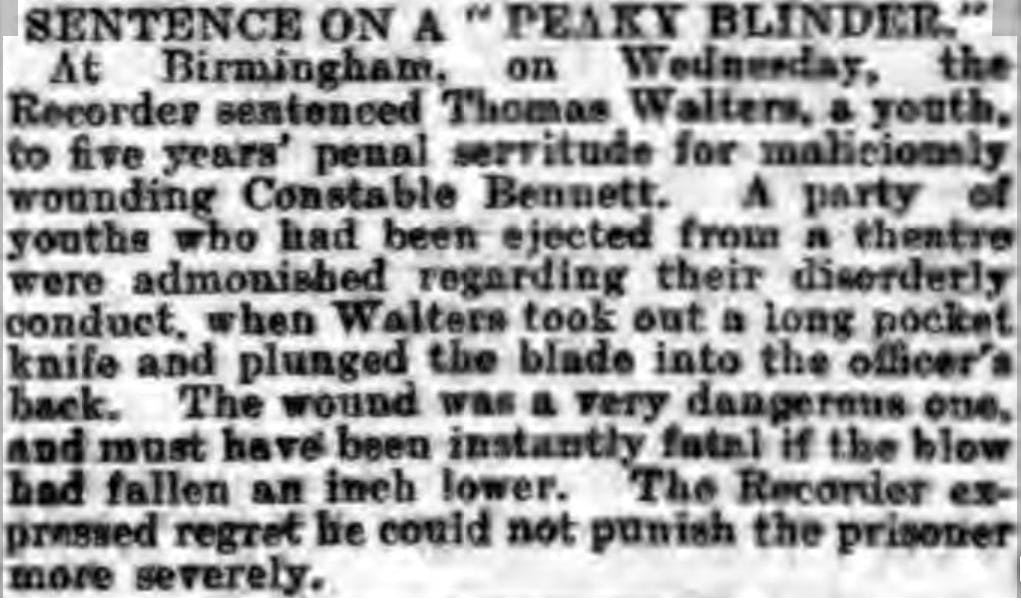 Brass polisher, Walters was in his late teens at the time. His criminal papers tell us he had a bow and arrow tattoo with his name on his forearm.

In Peaky Blinders, Tommy Shelby and his gang operate their dodgy dealings from their local pub, the Garrison. That intimidating haunt is based on a real tavern located at 110 Garrison Lane, Birmingham. And, with a spot of house history research, we can trace its colourful and somewhat chequered past.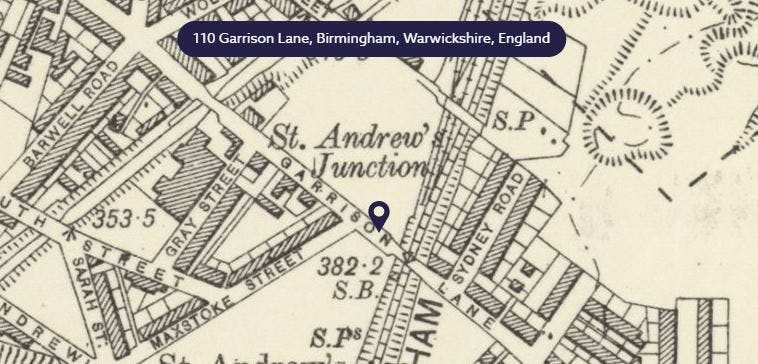 In 1912, Thomas Alexander Palmer, then the licensee, was charged with selling alcohol to a minor.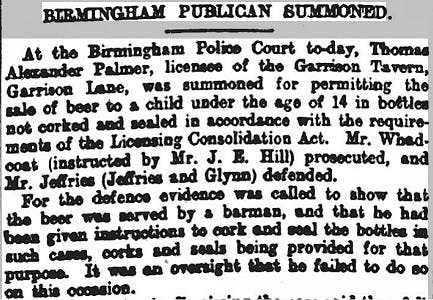 By 1921, Herbert Edward Pickering and his family were running the pub. They are listed there on the night of the 1921 Census.

That same year, Pickering was involved in case to win the rights for the Garrison to sell alcohol to Birmingham City football fans who were attending matches at nearby St. Andrews.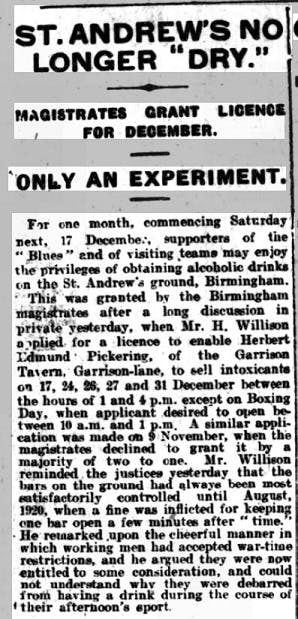 The emergence of more powerful rival gangs, particularly the Birmingham Boys and the Sabini gang, led to the eventual decline of the Peaky Blinders in the 1930s. Many of them retreated away from urban Birmingham to the relative obscurity of the rural countryside.