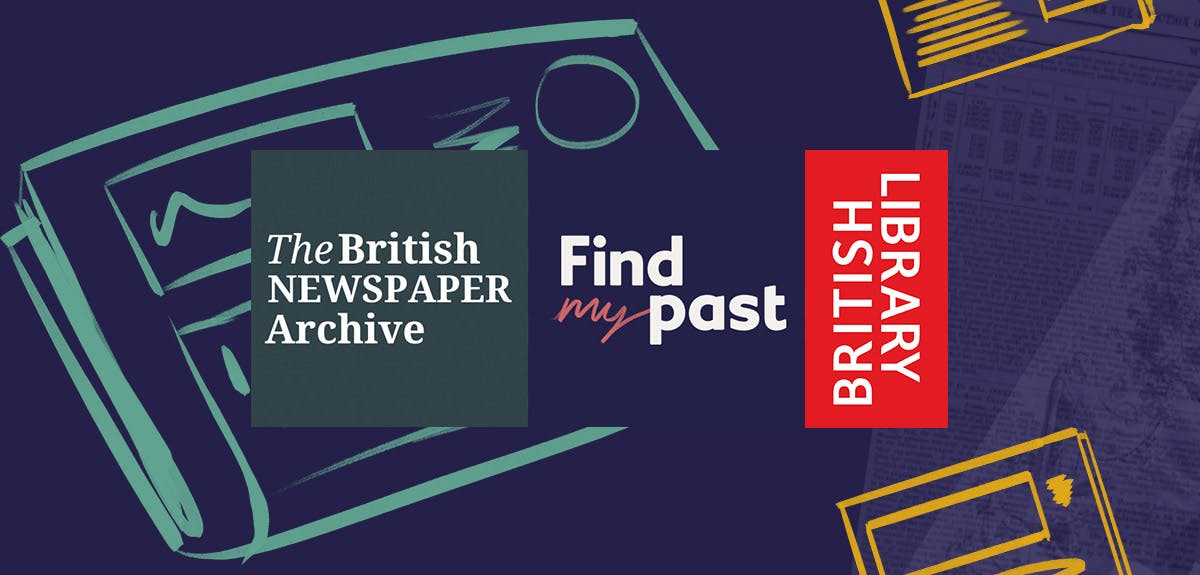 Explore over one million historical newspaper pages for FREE

In partnership with the British Library, we've made over a million newspaper pages completely free to search and view. And there's much more to come...
Following the renewal of our long-term partnership with the British Library, together we've pledged to make millions of historical newspaper pages free to view online. 
Search FREE newspaper archives
Over one million pages are now free to search and explore on both Findmypast and our sister site, the British Newspaper Archive. This will be expanded by more than 2.7 million additional free pages over the next four years.
Originally launched in 2011, Findmypast and the British Library's partnership has delivered the most significant mass digitisation of newspapers the UK has ever seen. The British Newspaper Archive and Findmypast are currently home to more than 44 million fully-searchable pages from over a thousand regional, national and specialty titles dating from 2009 all the way back to 1699. Our ever-growing digital catalogue covers every corner of the British Isles as well as a number of former British territories including Canada, New Zealand, India, Pakistan, Barbados and Jamaica.
Previously, this vast cultural treasure was held entirely in hard copy and microfilm, meaning travel and hours of painstaking manual research for anyone wishing to explore its contents. Now anyone, anywhere in the world, can uncover millions of articles across hundreds of titles, in just a few simple clicks.
What newspaper archives are free?
There are currently 158 free newspapers on offer, dating from 1720 to 1880 and covering a diverse array of histories, locations and topics. The newspapers selected were digitised as part of four special British Library projects: 
19th Century Newspapers: a project funded by the Joint Information Systems Committee and the British Library's first major newspaper digitisation programme 
Heritage Made Digital: an ongoing project to transform digital access to rare and early newspapers,  focusing on newspapers in a poor or unfit condition 
Living with Machines: another ongoing project, jointly led by the Library and the Alan Turing Institute, which has been digitising selected UK regional newspapers as part of a major study of the British industrial age and using artificial intelligence tools to undertake new kinds of historical enquiry
The Endangered Archives Programme: a project that facilitates the digitisation of archives around the world that are in danger of destruction, neglect or physical deterioration 
Illuminating diverse stories
Many of the papers included have been specifically chosen to help you shed new light on diverse and previously underrepresented communities and their histories. Highlights from the collection include:
 Barbadian (1822-1861) – a fascinating Caribbean publication that covers the transition of Barbados from the colonial, pre-modern to the modern era, including the Emancipation (1834), and the end of the apprenticeship system (1838) 
British Emancipator (1837-1840) – an anti-slavery newspaper that fought for the abolition of the system of apprenticeship, which was put into place after slavery was abolished in the British Colonies 
British Miner and General Newsman (1862-1867) – a journal devoted to working miners, which went through a number of titles including The Miner, The Workman's Advocate and The Commonwealth 
Cobbett's Weekly Political Register (1803-1836) – a famous and hugely information-rich vehicle for the ideas and opinions of the great nineteenth-century radical William Cobbett 
The Examiner (1808-1880) – a leading radical weekly, edited by Leigh Hunt, with contributors including William Hazlitt, John Keats and Percy Shelley 
Illustrated Sporting News and Theatrical and Musical Review (1862-1870) – a lively, visually rich newspaper covering a wide range of sports and theatrical events, with many fine illustrations 
Royal Gazette of Jamaica (1779-1840) – a West Indies newspaper notorious for its slavery advertisements
Lady's Newspaper and Pictorial Times (1847-1863) - one of the earliest newspapers produced for an exclusively female audience 
Morning Herald (1800-1869) – founded in 1780, a national daily that for a number of years rivalled The Times in importance 
Poor Man's Guardian (1831-1835) - the most successful and influential of the radical unstamped (and thus illegal) newspapers of the early 1830s 
Sun (1801-1871) – a daily evening national newspaper, founded in 1792, originally with pro-government and anti-French revolutionary stance, before changing to advocate liberal and free trade principles 
By providing free access to key areas of this unparalleled resource, Findmypast and the British Library are offering the public unique opportunities to uncover the stories behind historical events both great and small, as they happened; transforming their understanding of both the past and the present. This detail-rich archive sees the lives of ordinary people played out in print. Readers can discover contemporary reports on the struggles of the poor and working class, the daily lives of England's mining communities, the evils of slavery, the campaign to end them and much more.
As well as providing free access, our use of Optical Character Recognition (OCR) and machine learning also means exploring these unique resources is easier than ever. You can search billions of lines of printed text by name, date, keyword or phrase, all from the comfort of your own home.