Ancestors that made the headlines: Community discoveries from our newspaper archive
4-5 minute read
By Daisy Goddard
16 October 2023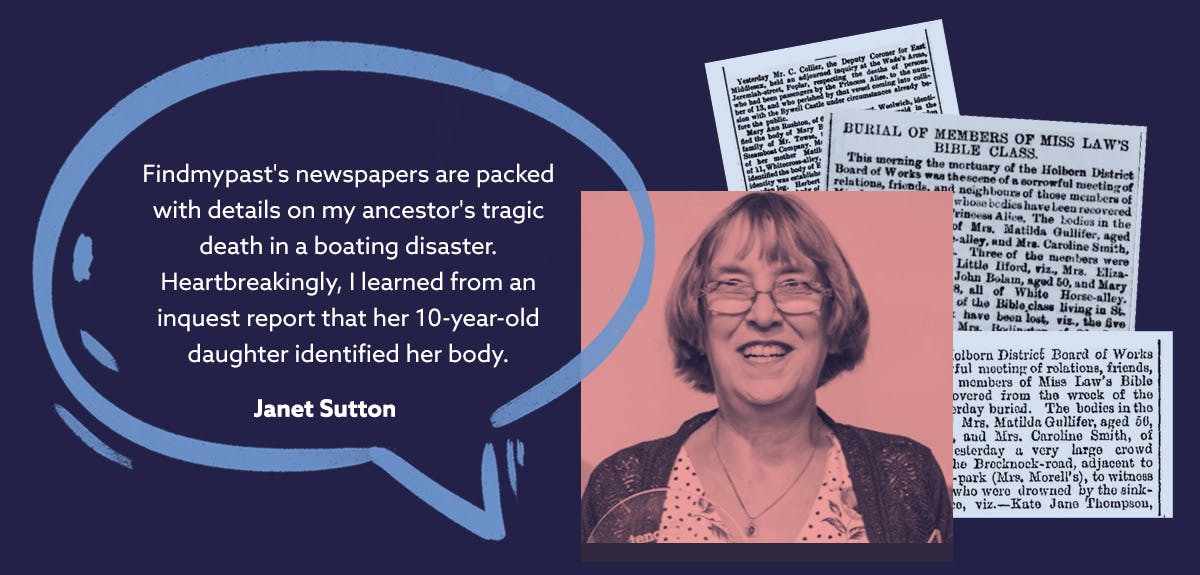 Our newspaper collection allows you to discover your family tree's colourful stories in black and white. Here are some of the most exciting discoveries made by our community.
From salacious scandals to local legends and family folklore, all of life's moments were captured in newspapers generations ago. Although family records are essential for building your family tree, only newspapers can add such vivid colour, context and richness to your family story.
Search for stories in our newspapers and publications
Explore millions of digitised pages of newspapers and other publications from our British and Irish collections, dating as far back as the 1700s.
Your newspaper discoveries
With unexpected tragedy, occupational firsts and so much more, here are just some of our community's exciting finds.
A tragic boating accident
Janet began her genealogy research by searching for a surname shared by her family members - Gullifer - in our newspapers.
Her search returned results for a boating accident that took place in September 1878. A steamboat named the Princess Alice sank on the Thames after an unexpected collision. The accident killed hundreds of Londoners who were returning home from a day trip to the seaside.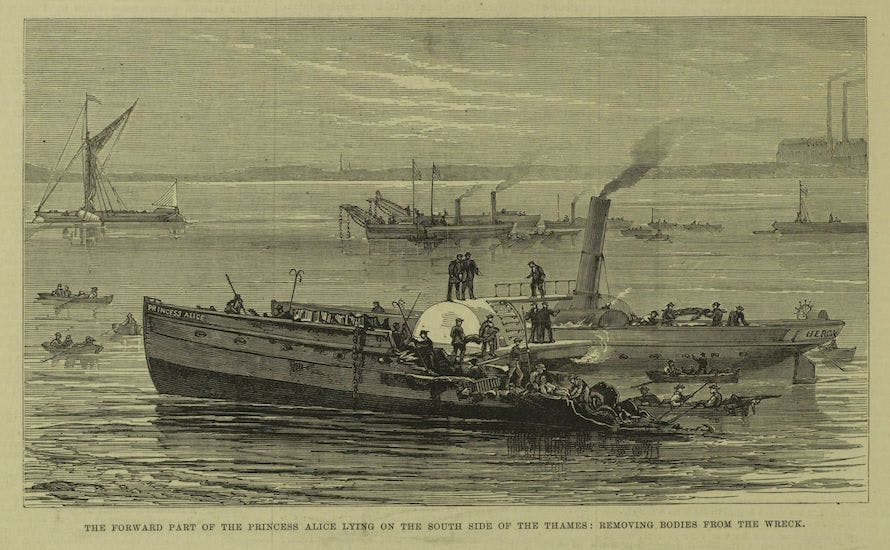 Janet's great-grandmother's sister, Matilda Gullifer, died aboard the Princess Alice. Her name appears throughout the newspaper reports of the tragedy.
The accident went on to play a role in increasing safety measures on the Thames. It has been studied by numerous historians and writers including Joan Lock (The Princess Alice Disaster, 1878).
Janet's moving discovery attests to the detail that can be found within the pages of our newspaper archive.
One of the nation's first teachers
Using family records to fill in the blanks, Dawn Jennifer traced her ancestry back to her 3x great-grandparents. Her 3x great-grandfather was George John Westfield (b.1820).
Using censuses, Dawn traced George's movements from Norfolk to Great Yarmouth and finally to London. A search for George's name in the newspaper archive revealed a treasure trove of details about his life and his work in the field of education.
George was granted a diploma of licentiate from the College of Preceptors - somewhat equivalent to today's MA, and undoubtedly very impressive for a late 19th-century schoolteacher.
The College was established to standardise British education in 1846, making it the country's oldest educational institution.
Dawn's family members were surprised by this fascinating discovery. Without the richness that newspapers can provide, this key detail hiding in Dawn's family tree would have been left undiscovered.
A life in the entertainment industry: from entrepreneurship to imprisonment
Initially, Bill knew nothing about his grandfather, William James Marks. Records revealed that William had changed his name. He adopted a stage name, James Marks Creighton, when he left his home in Cardiff to become a touring actor.
A newspaper search revealed numerous results - from glowing theatre reviews to positive appraisals of William's work running theatres in Dundee.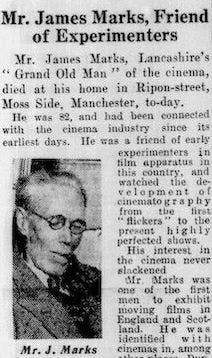 William was also involved in a scandal which led to his brief imprisonment in 1903. Upon his release, William continued to work within the film industry, even inventing a new type of cinema screen.
Using the newspapers, Bill traced William's life in Manchester right up to his death in 1935. Obituaries published for William offer an insight into his legacy.
The largest collection of British and Irish newspapers online
Working in close partnership with the British Library, we're digitising a vast collection of historical newspaper titles, providing online access via our Pro and Premium subscriptions.
With Findmypast, you can access over 71 million old newspaper pages from England, Wales, Scotland and Ireland, covering hundreds of years of British and Irish history.
Whether you've got ancestral roots in Devon, Durham or beyond, discover rich family stories within our newspaper archive.
Using historical newspapers for genealogical research
With our newspaper archive, searching is simple yet powerful. Start with just a name or keyword and our smart filters will help you pinpoint the pages that matter to you. To ensure that you get the most out of your search, be sure to follow the advice of our experts.
You can also find people from your family tree together, by adding more than one name to a single search. You could soon be discovering incredible stories that affected your entire clan.
Quickly and easily add or remove more filters to refine your search even further. It's never been simpler to sift through 300 years of history.
Behind every headline, there's a family. Including yours. Enrich your family history with stories, moments and memories you'll only discover in old newspapers.
Newspaper collection FAQs
Where can I find old British newspapers?
What is Britain's biggest-selling newspaper?
The Daily Mirror and the Evening Standard are two of today's most popular newspapers, but it was a very different story in years gone by. At the beginning of the 19th century, the Morning Post was in the top spot, but it was overtaken by the Morning Herald and later The Times by the mid-1850s.
Can I buy a newspaper from a specific date?
While it's not possible to purchase an individual page, you can enjoy unlimited access to our full newspaper archive with a Pro or Premium subscription. Why not browse at no upfront cost, with a free trial?
More on this topic:
Share this article
About the author