A beginner's guide to using birth, marriage and death records for family history
3-4 minute read
By Daisy Goddard
22 December 2022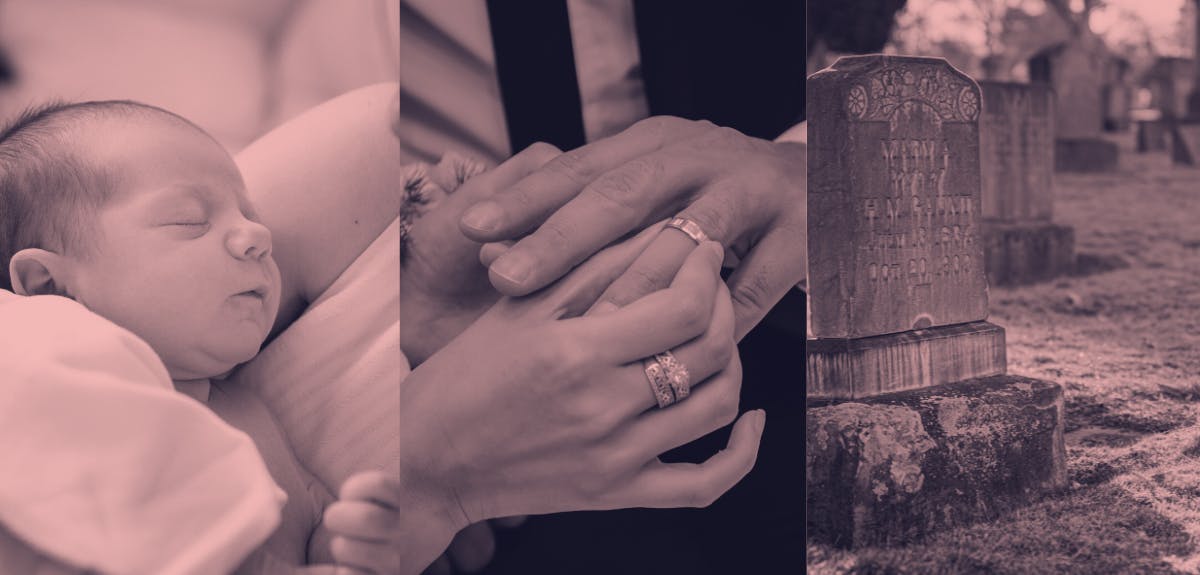 Often the key to growing your family tree, here's everything you need to know about vital life event records.
Birth, marriage and death records (BMDs) are one of the first kind of family records you'll discover when you start looking into your past.
BMDs provide an incredible resource for tracing important events in your family's history. But what are they, exactly? And how can they help you trace your family tree?
A brief history of birth, marriage and death records
The story of British birth, marriage and death records starts way back in 1538. The Church of England split with Rome, and it was decided that every parish priest should keep a register of any baptism, marriage or burial that happened under their jurisdiction.
It's from these original register books, featuring the very words that those priests penned nearly 500 years ago, that Findmypast's online parish records are compiled. The books are scanned and transcribed, before being uploaded onto our site.
These parish records, which, depending on the priest, could be either highly detailed or not kept at all, are the source of all BMD information up to 1837, when the lack of consistency in record-keeping saw the beginning of civil registration.
What's the difference between parish records and civil records?
GRO (General Register Office) records are those civil registration records that started in 1837. The main difference between those and parish records is the amount of information available. As a rule, the GRO records will contain a more standard set of information as listed below, whereas parish registers can vary greatly, such as marriage registers including information of the newlywed's parents' names and occupations.
Getting started with birth, marriage and death records
The most likely starting point for family history newbies will be the more recent civil registers, which are fully name-indexed and much easier to search than their parish predecessors. Findmypast's smart search features allow you to include name variants in your search, in case a record was transcribed wrong (easily done when you see some of the handwriting) or your relative recorded themselves under a shortened name (e.g. Maggie instead of Margaret).
Most BMDs have a scanned image accompanying the transcription for extra reference, but you'll need to order the full certificate to get access to all of the information the original civil record holds.
What can birth, marriage and death records tell you?
The amount of information listed in BMDs will vary depending on the record, but usually they will consist of a combination of the following personal information:
Name
Birth year/date
Mother's surname
District
County
Country
GRO birth records in England and Wales contain the mother's maiden name for any births registered from 1837 onwards.
If you're unsure when a marriage may have taken place, searching for an ancestor between the ages of 16 and 28 is a good starting point. Marriage records can reveals
Name
Name of spouse
Year and quarter of marriage
District
With the civil marriage records on Findmypast, we offer our clever MarriageFinder feature. It provides you with one definite marriage match or a list of possible matches for cases where you're unsure of the spouse.

If they had been married before, the married and maiden name of the woman was recorded from 1912 onwards.
Once you've a confirmed a marriage in your family, try ordering the certificate from the General Register Office just as you would for birth records. Copies of the original certificates can reveal even more detail for your family tree.
If you're not sure when your ancestor died, or whether they have died, a search from age 60-80 (assuming you know their year of birth) in the death records is the best place to start. Death records usually feature:
Name
Gender
Birth date
Death date
District
County
Country
For English and Welsh civil death indexes, the date of birth was added from the 2nd quarter of 1969 onwards.
On death certificates, look out for common causes of death like 'consumption' or 'wasting'. These are often linked to lung diseases. 'Climacteric' indicates the death was unexpected or the doctor couldn't identify a cause of death.
Birth and marriage records will be the most useful for adding new names to your family tree, while death records can provide insight into the life of an individual and their family.
You never know what you might discover.
More on this topic:
Share this article
About the author