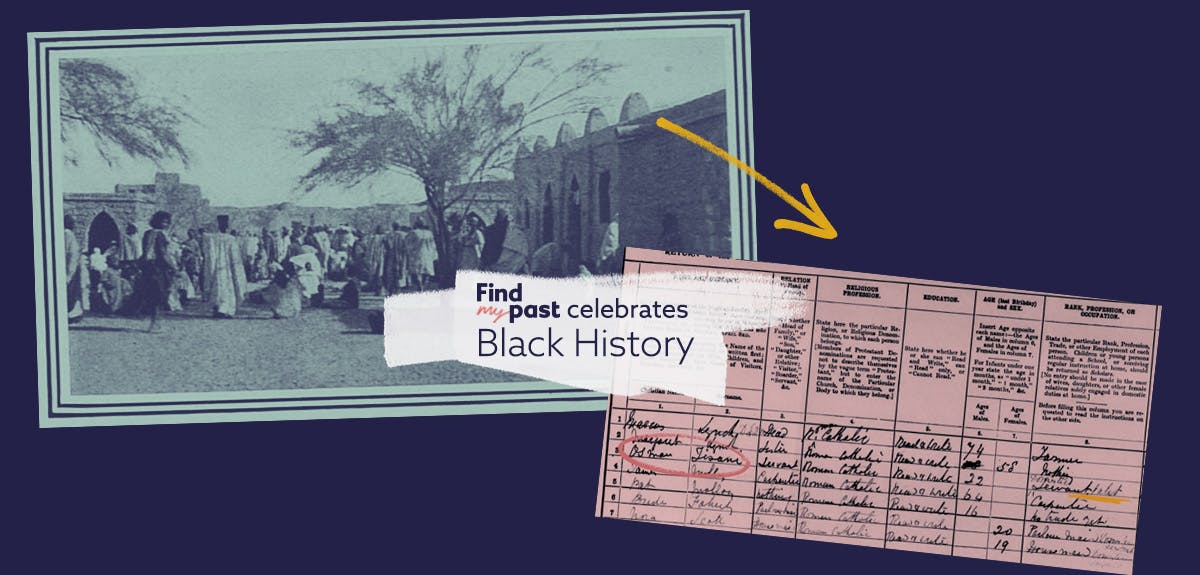 We've discovered the first African-born Irish speaker in our records

In the early 20th century, Osman Tisani came to Galway from South Africa and became the first African-born person to speak as Gaeilge. Our records help tell his amazing life story.
Using Findmypast records, we've mapped Osman Tisani's unique journey from Timbuctoo to Barna, County Galway.  This overlap between African and Irish history brings us a fascinating tale of service, travel, culture, crime, and sickness.
There is little known about Osman Tisani's early life and what you will find is a mixture of folklore and circumstance.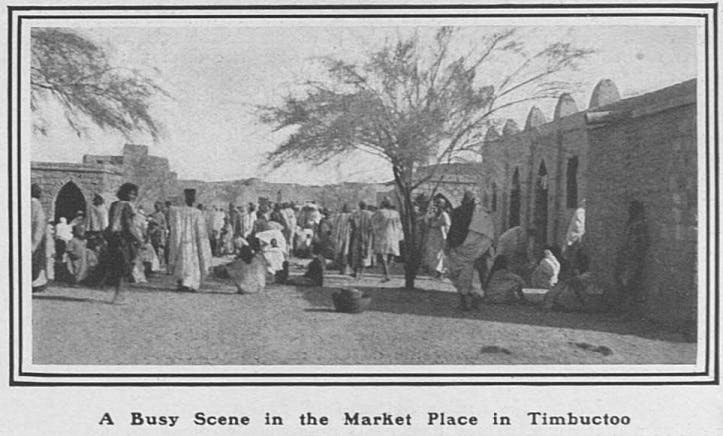 The records are conflicting about Tisani's birth year which could have been anytime between 1885 and 1889, but they all agree he was born in Timbuktu.
Some stories say that Osman Tisani was the son of an African chief and during the Second Boer War he was exchanged for Nicholas Lynch, the son of Marcus Lynch of Barna House, Galway.  However, our Anglo-Boer War records, compiled by military enthusiast Meurig Jones, suggest that Tisani actually may have been the 'batman' or soldier's servant for Nicholas Lynch.
Captain Lynch was a member of the South Lancashire Regiment and for several years he patrolled the Gold Coast of Africa, a British colony that later became part of Ghana, and then later the Muri Mountains in present-day Nigeria.  It could have been during this time that he came to know Osman Tisani.  It is not known whether Tisani was recruited into service willingly or if he was forced.
In November 1900, Captain Nicholas Lynch died in South Africa of enteric, a bacterial infection of the intestines.

Tisani likely travelled with Lynch from Africa's West Coast to South Africa.  Then after Captain Lynch's death, he went to the home of Marcus in Barna, Galway.
It is believed that Osman Tisani was living on Ireland's west coast by 1905.  We imagine he would have been struck by the damp and rugged landscapes, such a stark difference from the Sahara sands of his home. Barna is a coastal village in Connemara and part of a native Gaelic-speaking area. Tisani's new home was a hive of Irish language, dance and sport.  Barna House, where Lynch lived, was a large Georgian home with stables, a coach house, high ceilings, fireplaces and acres of land.  Our Irish dog license registers also reveal there were always dogs around the home including a terrier, a pug, setters and a Great Dane. 

Local legend claims that Marcus Lynch built a handball alley for Tisani in 1905. At the time, handball was a national game. In 1905, Kerryman newspaper described it as;
"a beautiful game, a healthy game, and a game for heroes."
The alley is still used today and recently a local community group gave it a fresh coat of paint. At this point in Tisani's life, we can only rely on folklore which tells us that he embraced his new home.  He learned the native Gaelic tongue and was thought to be a good Irish dancer.
Our research shows that Osman's life in Galway was not without drama and hardship. In 1908 we find him in the Irish Prison Registers for assisting John Caine to desert from the 88th Connaught Rangers.  He was sentenced to 7 days' hard labour.  The records also tell us that he was Roman Catholic and could read and write.  His physical description reveals a painful history with marks of wounds on his left thigh and a missing toe from his right foot.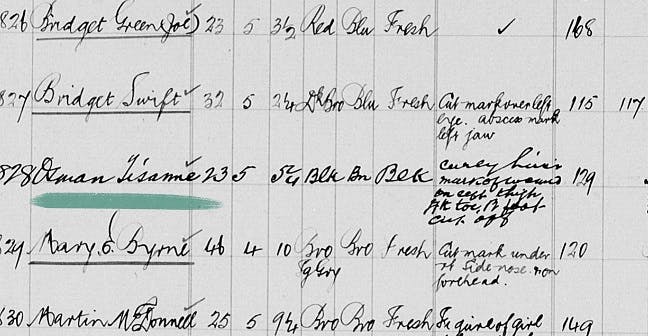 A month later, Osman appeared in court again, this time as a complainant.  The court register tells us that he was assaulted and beaten by Frederick Hoare.  You cannot help but surmise that this act of violence could have been racially motivated. Tisani may well have been the only person of colour living in Barna at the time.  The court document states the parties did not appear in court.  Hoare was clearly a violent man - we find him only months later in the prison registers for participating in a group attack on James Kirkpatrick.
Lowly servant or trusted confidante?
In the 1911 Census of Ireland, we find Tisani living with Marcus Lynch, his sister Margaret and other household staff. The transcript shows that Tisani was listed as a servant, but if you take a closer look at the original document, you can see that he is noted to be the valet.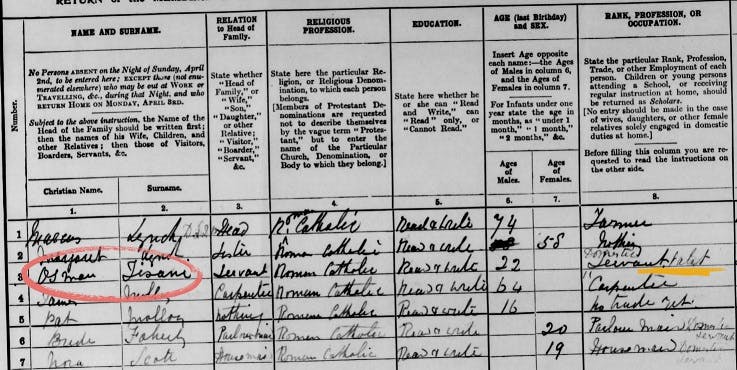 In a large house, the valet was one of the highest-ranking occupations of the domestic servants. Osman would have been Marcus Lynch's personal servant and in this role, likely a trusted companion of the head of the house.
Between 1911 and 1920, Osman's paper trail dries up.  We know his employer, Marcus Lynch died in 1916.  Four years later, Osman Tisani died in Ballinasloe Asylum. On his death record, his occupation was a farmer. This time, his age is listed as 33, giving him a birth year of 1887, which sits directly between the birth years found in his court and census records.
Ballinasloe Asylum was a hospital for the mentally ill.  At its height, it held over 1,000 inmates in overcrowded conditions. It was initially opened to care for 'curable lunatics'.  In his final record, Osman is listed as Osman Joseph Tissani of Barna. He died on 7 October 1920 of pulmonary congestion and cardiac failure.
Our records have helped to reveal the eventful life of Osman Tisani, from his birthplace in Timbuktu to an asylum in Galway. We still don't know whether he travelled to Ireland voluntarily but we do know that when he did, he was met with violence. In between, he travelled across the world and experienced a variety of cultures. Folklore tells us that he embraced Irish life and that he was the first African Gaelic speaker.