Irish Family History Centre
14-18 March 2013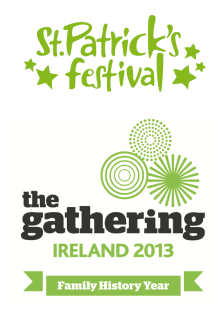 Discover Your Irish Family History
with findmypast.ie in Dublin this March
Get FREE access to findmypast.ie
Attend lectures on a variety of family history topics
80 million people worldwide claim Irish ancestry - are you one of them?
The Irish Family History Centre runs throughout the week of the St. Patrick's Festival and allows you to discover your Irish family history.

Free access to millions of online records from findmypast.ie will give you an insight of what life was like for your ancestors hundreds of years ago in Ireland. Learn how to search for information using the free computers and chat with experienced staff who can answer your questions.
Exhibitors & Talks
As well as findmypast.ie, other family history organisations will be on hand to provide advice and guidance each day. A series of lectures will also be held daily, covering various family history topics, so there is something for everyone – from family history novices to experienced genealogists.

Click here for a list of exhibitors and the talk schedule
Where & When?
Thursday 14 March - Monday 18 March
Discover Ireland Centre
Suffolk Street, Dublin 2
Thursday - Saturday 10am - 5pm
Sunday 11am - 4pm
Monday 11am - 3pm
View Larger Map